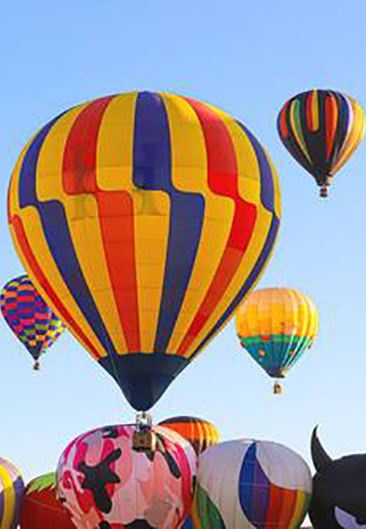 Albuquerque Balloon Fiesta
October 3 - 7, 2021
$1799pp Double Occupancy and $2199pp Single Occupancy
Status: Available
---
The Albuquerque International Balloon Fiesta creates an enchanted world color across the sky. Brisk autumn mornings in the Rio Grande Valley create an otherworldly backdrop for the breathtaking majesty of the most popular event, Mass Ascension and lights up the sky with evening Glow. The Balloon Fiesta began in 1972, with about ten balloons launching from a shopping mall parking lot. By their 40th anniversary they had a record breaking 345 balloons launching in one hour on the first day of the Fiesta.
---
Itinerary:
October 3, 2021 Sunday
Depart BWI for Albuquerque. Arrive in New Mexico, Check into the Marriot Albuquerque Check into the Marriott Albuquerque. Freshen up and rest before departing for your 1st experience of the Balloon Fi-esta. The Balloon Glow ~ The sight of balloons lit from within at night is breathtaking. Balloon Fiesta launched its Balloon Glow, the world's biggest, in 1987. Balloon Glow all burns, when all the balloons fire their burners and light up at the same time are perhaps the most spectacular single moment in all of Balloon Fiesta. Tonight you will also see the Fastrax sky diving team and a fireworks show. Enjoy the Food vendors and artisans as well.
October 4, 2021 Monday
Breakfast included at hotel. Today your guide will meet you at the hotel and introduce you to the 19 Pueblos of New Mexico. Visit the Indian Pueblo Cultural Center and enjoy the galleries full of local and national Native American art-ists. A focus on Pueblo artists helps to preserve their local culture. This afternoon explore Old Town Albuquerque and the surrounding area. Savor the unique fusion of Mexican, Native American and Spanish heritages and rake a ride along the eclectic Route 66. Enjoy and included local dinner tonight. (B,D)
October 5, 2021 Tuesday
Breakfast included at hotel. Today, venture off the freeway and onto the Turquoise Trail National Scenic Byway. The Scenic and Historic Area encompasses 15,000 square miles in the heart of central New Mexico, linking Albu-querque and Santa Fe. Along Highway 14, enjoy a breathtaking view from atop Sandia Crest, travel through the min-ing towns of Golden, Madrid, and Cerrillos, alive with art, crafts, music, museums and restaurants. Arriving in Santa Fe we will enjoy a tour of the Historic Santa Fe to include The Historic Loretto Chapel, Canyon Road and its colorful art galleries, Santa Fe's Museum Hill area, the historic Santa Fe Plaza and the Palace of the Governors. Afterwards take time to shop and grab a bite to eat before we depart for the Sandia Peak. Take the Aerial Tramway to the top. As-cend one of America's most stunning urban peaks. Reaching the 10,378-foot crest of the Sandia Mountains in 15 minutes, an 11,000 square mile panoramic view awaits you. Take some time to explore the top before returning to the bottom. Return to the hotel and freshen up before dinner. (B,D)
October 6, 2021 Wednesday
Up early and off to the highlight of your trip—Albuquerque's International Balloon Fiesta. Watch with excitement as the hot air ballooning begin to lift with the sunrise. As one of the world's most photographed events, you must be ready to get that once in a lifetime shot! Watch as the balloons fill the sky during the balloon ascension. This spectacu-lar display in one of the most amazing in all of aviation. Later this morning you can see the Competition Flying, Chainsaw carving and grab the 'must have from a local artisan. Shuttle service available back to the hotel at 9:30AM and 11:30AM. Take a guided tour of the Anderson Abruzzo International Balloon Museum this afternoon. Explore the history, science, sport, and art of ballooning and other innovative forms of flight. Discover how human avia-tion began with ballooning in 1783 and the many advancements that have followed. Enjoy a farewell dinner tonight with your group. (D)
October 7, 2021 Thursday
Breakfast at the hotel. Return flight home today. (B)